Welcome to the
Assassin's Creed Wiki
Choose your path
Explore the lore
Featured Article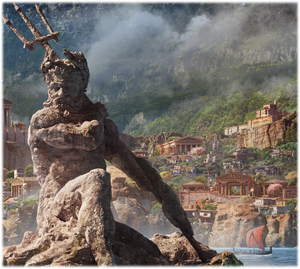 Greece, historically also known as Hellas, is a country in southeastern Europe, bordering Albania, Macedonia, Bulgaria, and Turkey. It consists of the mainland and several islands in the Mediterranean Sea. Greece's capital and largest city is Athens.
In early 431 BCE, war broke out between Sparta's Peloponnesian League, and Athens' Delian League. This conflict was known as the Peloponnesian War.
A grandchild of the late Spartan King Leonidas, known as the Misthios, took part in the war as a mercenary. more . . .
Helping Out
To write a new article, just enter the article title in the box below. Don't forget to categorize them!
Not sure where to start?
Things that need improvement
Adding content
Community
Visit our sister wiki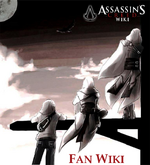 Interested in creative, but non-canon, approaches to the content of Assassin's Creed? Want to try your hand at creating your own exploration of people, organizations, and situations arising in various Assassin's Creed games? Then take a trip over to our sister wiki, the Assassin's Creed Fan Wiki!
Forum activity
This module cannot be represented on this wiki, since forums can't be enabled here on this test wiki. Please click here and look in the right rail to see how this module works for real. For the Odyssey refresh, no changes are anticipated.
Poll
Do you want a modern day protagonist like Desmond in future games?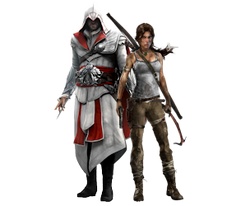 Action-Adventure Games
Go to these sites for info or for help with your own wiki!
ARK: Survival Evolved • Assassin's Creed • Bayonetta • The Binding of Isaac • Castlevania • Crackdown • Darksiders • Days Gone • Detroit: Become Human • Devil May Cry • Dragon's Crown • Fran Bow • God Eater • Grand Theft Auto • Gravity Rush • HITMAN • Horizon Zero Dawn • InFAMOUS • Just Cause • King's Quest • L.A. Noire • Last Day on Earth: Survival • The Last of Us • Legacy of Kain • Legend of Zelda • LEGO Dimensions • LEGO Games • LEGO Marvel and DC • Lightseekers • The Longest Journey • Mafia • Marvel's Spider-Man • Metal Gear • Monkey Island • Monster Hunter • Ninja Gaiden • No More Heroes • Ōkami • Prince of Persia • Red Dead • Senran Kagura • Sleeping Dogs • Splinter Cell • Subnautica • System Shock • Tomb Raider • Uncharted • Watch Dogs • Yakuza
Want your community included? See how!
See all of our Action-Adventure gaming wikis!