Featured Article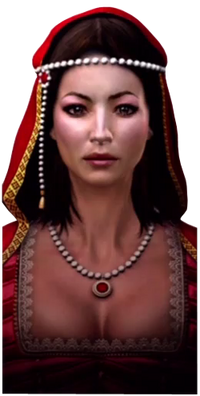 Paola (1438 - unknown) was the leader of the Florentine courtesans, owner of La Rosa Colta and a member of the Italian Brotherhood of Assassins.
Orphaned from an early age, Paola had known many hardships during her life, until she was finally charged with the murder of a city guard. With the help of Giovanni Auditore da Firenze, Paola managed to get out of trouble, after which she founded her brothel.
After Giovanni's death at the hands of the Templars, Paola assisted the young Ezio Auditore da Firenze multiple times, teaching him how to blend and lower his notoriety. She also renewed his contact with Leonardo da Vinci, who was able to repair his Hidden Blade.
Many years later, she was present at the claiming of the Apple of Eden from Rodrigo Borgia in Venice, along with many other Assassins that had helped Ezio during his travels. more . . .
Poll
Do you want a modern day protagonist like Desmond in future games?
Helping Out
To write a new article, just enter the article title in the box below. Don't forget to categorize them!
Not sure where to start?
Things that need improvement
Adding content
Community
Ad blocker interference detected!
Wikia is a free-to-use site that makes money from advertising. We have a modified experience for viewers using ad blockers

Wikia is not accessible if you've made further modifications. Remove the custom ad blocker rule(s) and the page will load as expected.